Andrew Luck's retirement is easy to see as a downgrade for the fantasy prospects of the Indianapolis Colts that remain, but T.Y. Hilton has now become a value.
News of Andrew Luck's retirement over the weekend, with plenty of reaction from players across the league on social media. One of the most heartfelt reactions came from Colts wide receiver T.Y. Hilton, who was drafted the same year as Luck (2012) and dedicated his 2019 season to his now-former quarterback.
With the move from Luck to Jacoby Brissett under center, it's fair to be pessimistic about the fantasy prospects of the Colts' passing game. But with Luck having missed a whole season in 2017, and Brissett starting 15 games (albeit in far worse circumstances than right now), there's data to be mined.
In 2017, tight end Jack Doyle led the Colts in catches (80) while finishing a close second to Hilton in targets (108). Hilton had 57 receptions as he led the team in yards (966) and targets (109), but his catch and yardage totals were his lowest since his rookie season.
Looking deeper, Hilton's yards per catch (16.9) and yards per target (8.9) in 2017 were close to his career averages in those categories (16.0 and 9.2 respectively). A new offensive system has arrived since then too, as head coach Frank Reich enters his second season.
With Luck's calf injury casting his status for Week 1 into doubt, Hilton's fantasy ADP had started to meander down. With a nod to how late the news on Luck came Saturday night, he has fallen from the late third-round in 12-team leagues (pick 3.11) to the early fifth round (pick 5.04) just from Sunday to Monday.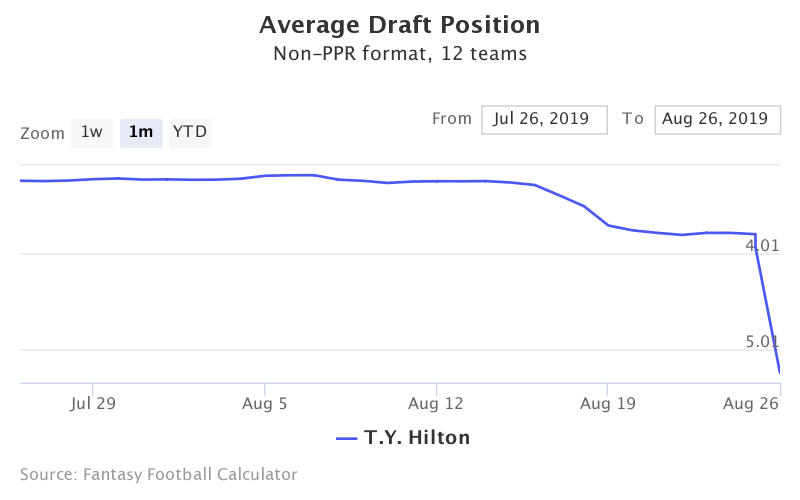 With the presumption of Brissett throwing a lot more than he was allowed to in 2017, Hilton should easily repeat his 120 targets from last year with 130 targets within range. Assuming a catch rate and other numbers in line with his career, that's 70-75 receptions for around 1,200 yards and six or seven touchdowns.
Those numbers would be a virtual repeat of last year for Hilton (76 receptions for 1,270 yards and six touchdowns), and naturally leave him in the same range of where he finished as a fantasy producer last year–WR15 in standard leagues and WR14 in full-point PPR. Even a less aggressive projection puts him as a WR2, which is where Hilton is being drafted now.
With Luck not able to practice, Hilton got a lot of work in with Brissett. So his assessment of his training camp stands out.
As draft season winds down and the dramatic reaction after Luck's retirement corrects, Hilton's ADP should level off some. The perceived risk that existed attached purely to Luck's health is gone, and the drop to Brissett feels like it will be negligible in a broad sense. So the Colts' No. 1 wide receiver is shaping up to be a fantastic value pick for those drafting late.
Stay tuned to FanSided Fantasy all year long for all your fantasy football and NFL DFS coverage!